Tracks
1. Midnight Vice
2. Roll the Dice
3. Katana
4. Running in Menace
5. High Roller
6. Diamonds
7. Live for the Night
8. Nightmares
9. Walk With Me
10. Take Me to Hell

Band:
Olof Wikstrand – Vocals
Tobias Lindqvist – Bass
Adam Zaars - Guitars
Joseph Tholl - Guitar
Jonas Wikstrand - Drums

Discography:
Into The Night (2008)

Guests:


Info

Released 24/5-2010
Reviewed 20/5-2010
The great late Dio released an album called 'Diamonds' some years ago - which was a best of album. He's not alone in doing best of albums called 'Diamonds', but this album from Enforcer is not a best of album - even if that's what you think at some times. Both in how it sounds sound-wise and quality-wise.
What we can hear on 'Diamonds' sounds like heavy metal from the 80's in it's very best version. Like any of the big German bands of the time (Helloween, Heaven's Gate, Scanner or Rage - who was called Avenger in the beginning) when they were at their peak. And it's not just the way the song are written and performed that smell 80's, it's the entire sound. Even the mixing is done so it screams 80's fashion. Normally - I'm not the guy who praise this kind of music - neither when bands refuse to change their sound that they've used for hundreds of years nor when new bands try to sound "old". But this is an exception - Enforcer really sound superb!
Some of you may now wonder - what do I mean when I say it sound, smell and scream 80's? And that actually is quite hard to explain. It's just that it sounds unique and different compared to the same music that's younger. There's a lot of discante and refrains where the entire band joins in on only one word as well as a dist on the guitar that combines speed and a sort of bubbly sound. And then of course there's the high pitch end on the last word in alot of the sentences. I'm thinking Scanner and I'm thinking 'Hypertrace' - through the entire album and that might seem like an out singled comparison but if you'd missed that one, it's a mile marker for this kind of music.
'Diamonds' is a fast and powerful album that takes a strong grip around you and shake your long hair like until your back in the 80's. Songs like the opening Midnight Vice, Katana and the penultimate Walk With Me shimmers the most. The vocalist Olof Wikstrand also do a full throttle performance and the entire band sound interesting and exciting throughout the album. I'd make a bet that 99,99% of all asked would think that this really came from the 80's and with the quality the album have I'd guess they'd also think the album title would be the evidence of it being a best-of album.
So, the sentence from me is... from the guy that normally don't even like album that sounds old... or heavy metal so much either... it is that this is one of the brightest shining diamonds this year. I also would like to squeeze in an extra good word for the Twin Peaks celebration they do with Walk With Me, whom I've already said is one of the albums best songs. To do references to Twin Peaks can never go wrong. And I actually don't think there's any risk that this album will go wrong. Not for at least 6/7 readers of Hallowed at least. An album worth its weight in diamonds.
HHHHHHH
Label - Earache/Sound Pollution
Three similar bands - Scanner/Heavens Gate/
Rage
(Avenger)
Rating: HHHHHHH
Reviewer:
Caj Källmalm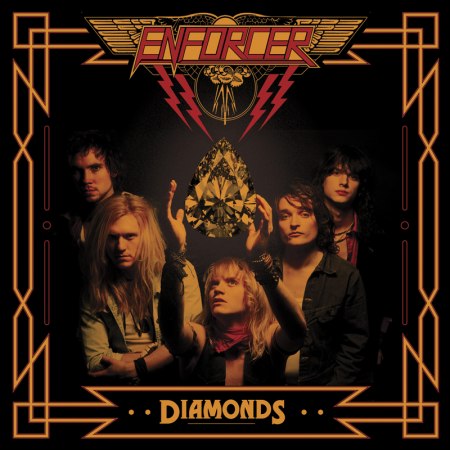 rage1.html