Tracks
01. DEMON CLASS
02. GHOST HUNT
03. MY TONGUE
04. LUSCIOUS DAMNED
05. BELOW ZERO
06. ALIEN SIX
07. PALACE OF GLASS
08. FAST AND FURIOUS
09. SUMMONED
10. ASTRONOMICA

Band:
KLAUS HYR • VOCALS
HANK SHERMANN • GUITARS
CRAIG LOCICERO • GUITARS
MARC GRABOWSKI • BASS
MARK HERNANDEZ • DRUMS

Discography:
Debut

Guests:


Info
Produced & mixed by Dave Otero
Cover artwork by Gustavo Saves/ Abtrata

Released 26/2-2010
Reviewed 25/2-2010

Links:
demonica.net
myspace
massacre

This seems to be quite the demonic band, I mean the record is demonstrous and the band is Demonica, a female demon perhaps. Well, what do I know about demons, the only thing I have real insight into when it comes to these supernatural things are grim reapers and they are not close to demons at all.
No matter, this band are actually not really demons or demonstrous, they are just ordinary people from USA and Denmark. Danish/American band you could actually title them if you like to.
Musically they remind me for a bit about Catamenia whom I reviewed just some day ago. There are some difference between this band and said Finns. Catamenia are more melodic and has more parts sung in cleaner vocals. And of course Catamenia feel like they are varying their style a bit more. The songs on this record are quite focused to remain in the same style all of them.
I think there are two songs on this record that is quite good, the track called Alien Six an another track called Below Zero. Sure, I can place opening track Demon Seed amongst these best tracks of the record.
Other than said tracks it feels rather much like the songs on this record are more or less filling up the minutes on the record rather than focuses the listener's attention towards the music. The tracks I mentioned by name however manage to break this fact.
I have a feeling that this record will be rather short but another thing I can mention is the fact that this band sound rather mature for being a band that releases their first album, productionwise that is, the songs are not really that quality.
I think that Demonica show some great potential with this record, they are an interesting band even though they don't quite manage to create the most interesting album in the world.
So buy Alien Six and Below Zero on iTunes if you can, the rest of the songs you will not miss anyway. That is my recommendation as Demonstrous is a decent record but it is rather boring.
HHHHHHH
Label - Massacre Records
Three similar bands - Catamenia/Sentenced/Eternal Tears of Sorrow
Rating: HHHHHHH
Reviewer:
Daniel Källmalm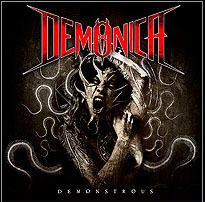 rage1.html