Bring Me the Horizon
There Is a Hell, Believe Me I've Seen It.
There Is a Heaven, Let's Keep It a Secret
Tracks
1. Crucify Me (featuring Lights)
2. Anthem
3. It Never Ends
4. Fuck (featuring Josh Franceschi of You Me at Six)
5. Don't Go (featuring Lights)
6. Home Sweet Hole
7. Alligator Blood
8. Visions
9. Blacklist
10. Memorial (instrumental)
11. Blessed with a Curse
12. The Fox and the Wolf (featuring Josh Scogin of The Chariot)

Band:
Oliver Sykes - lead vocals, artwork concept
Lee Malia - lead guitar
Jona Weinhofen - rhythm guitar
Matt Kean - bass guitar
Matt Nicholls - drums, percussion

Discography:
Count Your Blessings (2006)
Suicide Season (2008)

Guests:
Lights Poxleitner - additional vocals on tracks 1 and 5
Anna Maria Engberg - additional vocals on track 1
Elin Engberg - additional vocals on track 1
The Fredman Choristers - additional vocals on tracks 1 and 3
Josh Franceschi - additional vocals on track 4
Josh Scogin - additional vocals on track 12
Sonny Moore (aka Skrillex) - additional programming and vocals

Info
Fredrik Nordström - production, mixing, mastering
Henrik Udd - production, mixing, mastering
Andy Hayball - assistant engineer
Chris Rakestraw - additional vocal recording and production

Released 4/10-2010
Reviewed 16/10-2010

Links:
myspace
visible noise

There is a hell, believe me I've seen it, says Bring Me the Horizon in the title of their new album. So what? I have seen hell too, lots of times. However, if there is a heaven and they keep it a secret, they ought to be killed really. One should not really keep such a thing a secret, I wish to see heaven once, I don't care much for hell, believe me, I've seen it.
Speaking of hell, it is much like hell to listen to this album, most of the time it goes on anyway. Seriously, I can think of at least fifty nine bands in this instant that is at least two thousand four hundred times better than this british band with a long name and with a record with a long title. Speaking of british, I can think of lots of british things that are much better; ever heard of Bill Bailey, Top Gear, BBC or Michael MacIntyre? That is just a few british things and people that are way, way, way better than this band and then I have not even started on the musical things. But I would rather listen to No Prayer for the Dying by Iron Maiden fifteen times in a row rather than this album one time and that is something I consider torture as neither Iron Maiden, nor the album I mentioned are any good at all. They are still much better than this crap.
Musically it is fast, aggressive, grunting and growly, rough, stupid and so on and so forth. I would say that it can be considered to be hardcore or metalcore or maybe extreme metal depending on how you look at things and maybe that is something that describes it, somewhat. It is aggressive at least and the vocal parts and the musical of course.
As I stated before, there is not much to be positive about when it comes to this record. Sure the first song Crucify Me has some semi-fun parts that can be considered fun or interesting but really they are just less bad than the rest of the record to be honest. It is actually more or less like being prisoner at the Guantanamo prison to listen to this entire album without pause. Sure it is not as bad as the terrible albums by Bakteria, Endstille, Exhale, Immolation, Thornium and the rest of the dark bands that have seen the big hacksaw from my pen, but it is definitely one of the absolute worse bands that have received a two from me in this webzine's history.
I have seen good reviews for this record and it has done good in charts which for me is completely impossible to understand that anyone can like this just as it is that someone can like Shakira or Lady GaGa which do well in charts and sell loads of records but these things are probably down to the stupidity of the people as no sane person can enjoy crap like this.
Seriously, anyone who likes or buys this record must have some deficiency in their mind as no one within their right frame of mind can even remotely like this. It sounds like being eaten by a turkey who then gets sick and pukes you right back up. I can actually think of lots better things to do right now than listening to this record like getting Cancer, be on fire, explode or fall down a building and land on my head and loads of other things like that.
So, if you do not know anything about music and thinks From Dusk 'Til Dawn is the best movie ever, by all means buy this album; but if you are a sane thinking person who has something remotely like a taste in music you'd rather take a trip to africa to get Ebola than listen to this album.
HHHHHHH
Label - Visible Noise/Sound Pollution
Three similar bands - //
Rating: HHHHHHH
Reviewer:
Daniel Källmalm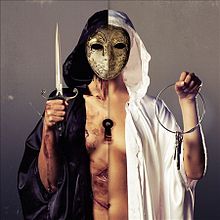 rage1.html