Avantasia
The Wicked Symphony
Tracks
1. Stargazers
2. Angel of Babylon
3. Your Love is Evil
4. Death is Just a Feeling
5. Rat Race
6. Down in the Dark
7. Blowing Out the Flame
8. Symphony of Life
9. Alone I Remember
10. Promised Land (part II)
11. Journey to Arcadia

Band:
Tobias Sammet - lead vocals, bass guitar
Sascha Paeth - guitars, producer
Eric Singer - drums
Miro - keyboards, orchestration

Discography:
The Metal Opera - 2000
The Metal Opera Part II - 2002
Lost in Space Part I (EP) - 2007
Lost in Space Part II (EP) - 2007
The Scarecrow - 2008
The Wicked Symphony - 2010
Angel of Babylon - 2010

Guests:
Musicians
guitar:
Bruce Kulick (on tracks 5, 9, 11)
Oliver Hartmann (on tracks 1, 2, 3)
Henjo Richter (on tracks 10)
drums:
Felix Bohnke (on tracks 4, 6, 8)
Alex Holzwarth (on tracks 1, 2, 3, 11)
keyboards:
Jens Johansson (on track 2)
organ:
Simon Oberender (on track 9)
Singers
Jørn Lande (on tracks 1, 2, 5, 6, 9, 10)
Michael Kiske (on track 1)
Russell Allen (on tracks 1, 11)
Bob Catley (on track 11)
Cloudy Yang (on track 8)
Jon Oliva (on track 4)

Info
Sascha Paeth & Tobias Sammet - prod.
Released 3/4-2010
Reviewed 17/5-2010

Länkar:
tobiassammet.com
myspace
nuclearblast

The penultimate part in the wicked trilogy and the fourth studio album by Avantasia, also the most wicked one, or something in the fashion. On this album released on the same date as the one called
Angel of Babylon
which is the final part of this trilogy. On this album we can hear singer like Klaus Meine, Russel Allen or Jörn Lande to name a few.
Musically it is as always with Avantasia fast melodic metal with sing-along-friendly choruses and some elements from the classical side of music which of course would be applicable considering this is called a metal opera and when collecting inspiration from the opera you cannot avoid the classical music and that is apparent here as well. Another striking thing about this record musically is the striking production which bare the signature marks of Sacha Paeth who have been helping Tobi out with the production as usual.
So with amazing production and the signature Avantasia sound this have to be a good record, or? Of course it is, no doubt about that, there are great songs and a solid performance from the singers and musician and the sound is fantastic. However, this is not as good as most other stuff from this band, which of course is not a low mark whatsoever considering what Avantasia usually makes. Along with part two of the Metal Opera this is probably the worst by Avantasia.
This record however have some great songs like the opener which is my favourite track as well as title track, it has great melodies and lovely sound which makes it into a great track really. I also very much like the single Dying For An Angel which is the video we have elow this review, it is a great track as well. Still these tracks are not anywhere near the best of the following album which might be a little problem as it makes this album feel a bit like a parenthesis in the discography of Avantasia, much the same as the part two of The Metal Opera. You need fantastic tracks to be played, at least by me, I am not sure this record will be played very much now that I have written the review, Angel of Babylon probably will as it has some great hit songs.
Anyway a nice part in what feels like a great trilogy, don't miss it, the trilogy that is.
HHHHHHH
Label - Nuclear Blast
Three similar bands - Edguy/Freedom Call/Aina
Rating: HHHHHHH
Reviewer:
Daniel Källmalm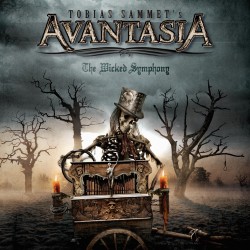 rage1.html